Invisalign Teen in Annapolis, MD
There's a technology that's (literally) putting a smile on plenty of young faces: the Invisalign® system of clear, removable aligners made especially for teens! If you (or a teenager you know) are a candidate for this treatment, you might find it's the best fit for your lifestyle: It lets you eat what you want, makes it easier to clean your teeth — and best of all, it's virtually invisible.
Are clear aligners right for you? It all depends on what kind of orthodontic treatment you need. Traditional metal braces still work best in some situations — and you might be surprised to find that they're still a popular option for many teenagers! But now that aligners are being designed specifically for teens, more are choosing them every day.
What is a clear aligner? Basically, it's a thin plastic covering or "tray" that fits over your top and/or bottom teeth. You'll wear a series of aligners that will gradually move your teeth into better positions. Here's how they work: Each aligner is custom-made with the help of a computer program that takes into account exactly where your teeth are now, and how they need to be moved. You'll wear each tray for two weeks or so, to shift your teeth slightly, and then you'll go on to the next, which is slightly different. Over time, all of the small movements will add up to a big change!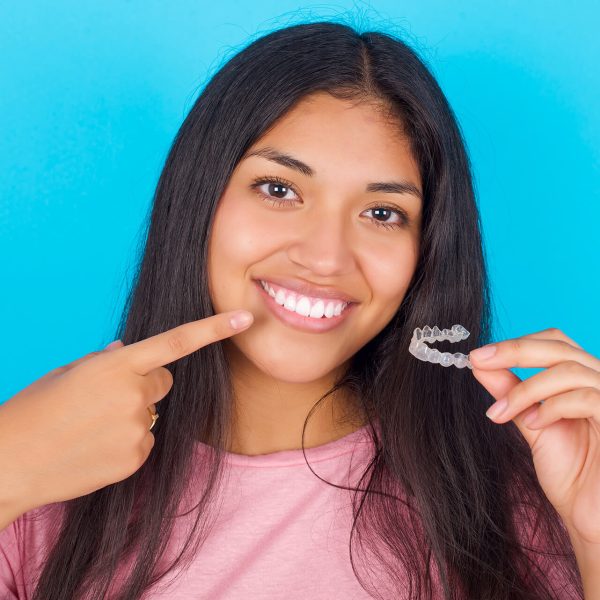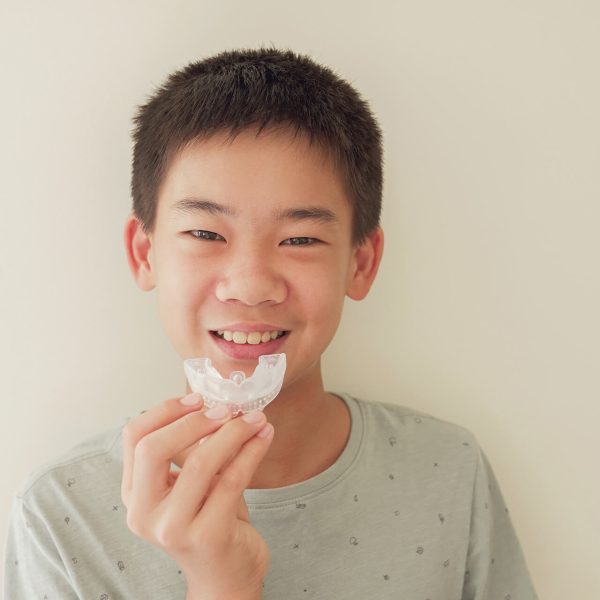 Your aligner is designed to be worn 22 hours a day, allowing you to take it off for meals or important social occasions. Yet even when you're wearing it, it's pretty hard for anyone else to tell it's there — a big difference from metal braces! Plus, it offers other advantages that aren't so easy to see.
One benefit of aligners over traditional braces is that they make your teeth easier to clean. Because they're removable, there's nothing to keep you from brushing and flossing everywhere in your mouth, just as you would without appliances. But brushing and flossing can be much harder to do around the brackets and wires of braces — and oral hygiene often suffers.
Some people also suffer irritation to the cheeks and gums from the metal parts of braces. Fortunately, the plastic of an aligner rarely causes that kind of problem. Plus, you won't have to rush into the dental office to quickly fix a protruding wire or reattach a broken bracket. You won't have to watch what you eat, either, because you'll simply remove the aligner at mealtimes. 
An Aligner Just for Teens
Clear aligners for adults have been available for over a decade, but until recently they weren't recommended for teens in most cases. Why not? Chiefly, for two reasons: It was thought that teens wouldn't always wear them for the recommended 22 hours per day; also, since many teens have some permanent teeth still erupting (emerging from below the gums), the precisely planned movement of the teeth might be disturbed.
Luckily, technology has come to the rescue. The first problem is addressed by "compliance indicators" located on the aligners themselves. These colored dots fade over time as the aligners are worn in the mouth, showing whether or not you've followed the plan. To solve the second problem, aligners made especially for teens come with "eruption tabs" built in; they are designed to hold space for teeth that have not yet fully erupted.
Today, more people than ever — both adults and teens — are finding that clear aligners suit their needs best. Are you one of them? Why not come in to our office and ask whether clear aligners could work for you.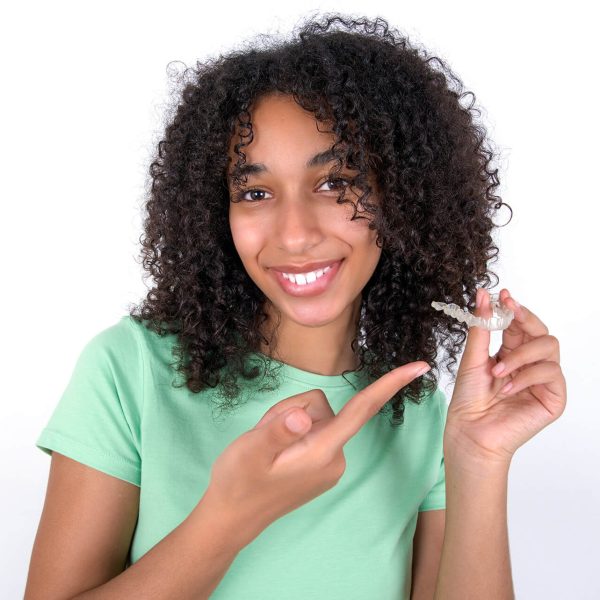 Meet Your
Award Winning

Doctors
Dr. Mairead M. O'Reilly is a trusted, board-certified professional with years of experience in the Annapolis, Maryland Community.
The Proof is in our Patients
233 5-star reviews in Annapolis, MD and counting…
Absolutely wonderful experience from check-in to check-out. Professional, friendly, and courteous staff in a beautiful state-of-the-art facility. Dr. O'Reilly is extremely knowledgeable, thoughtful and did a remarkable job of not only providing me with a "this is your mouth 101" course, she also suggested several professional treatment recommendations. I can't speak highly enough of my visit, and I wouldn't hesitate to recommend her to anyone considering treatment options. You've been warned - expect an amazing experience!
Dr. O'Reilly is exceptional. Her staff is friendly, professional and efficient. The office has the latest technology and is pristine. When you are under the care of Dr.O'Reilly you know you have the best of everything— her world of knowledge, experience and skill. What you won't anticipate, is how much you'll feel seen and heard. I have complete trust in her and would highly recommend her to everyone.
Dr. O'Reilly and everyone who works in the office are incredible! They care about you first and will do what they can to make your treatment plan flexible to work with you. I've worked with Pam on multiple occasions to help me make appointments when my schedule changes last minute. Dr. O'Reilly makes your experience during your appointments comfortable and positive and will always greet you with a smile. Love them!
I had been dealing with an issue of my bite being off for months and was extremely apprehensive about getting braces as an adult. Dr. O'Reilly and her outstanding staff immediately put me at ease. Her team and her not only made me feel comfortable about one day getting braces, Dr. O'Reilly took the extra time and care to discover an underlining condition in the root of my tooth which in my opinion went above and beyond the scope of care. Her team then took the time to get me an appointing with another specialist to solve the problem before I can get braces. Outstanding!